Private Tours of Washington DC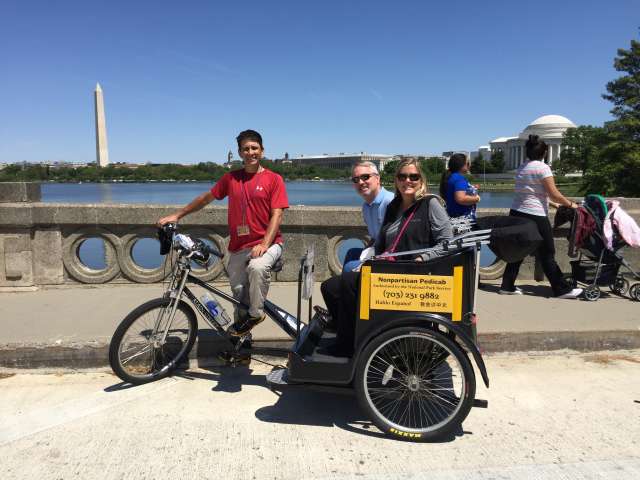 Looking for the Best Private Tours of Washington DC?
We have several options for private tours of Washington DC. All tours are entirely personalized to you.
DC Monuments and Memorials Tour
Twilight Tour of the Monuments
Smithsonian Museums and Pennsylvania Avenue Tour
Cherry Blossom Tour (seasonal)
Embassy Row and Georgetown Tour
Washington DC Tours for Disabled and Handicapped Visitors
Dog Friendly Tours of Washington DC
Kid Friendly Tours of Washington DC
Tours de Washington DC en Español
We offer you:
Free pickup from any downtown location including hotels, restaurants, parking garages, museums, Metro, etc.
Start on your own schedule. Go at your own pace.
Small kids ride for free
Friendly, knowledgeable tour guide
Fantastic photo opportunities at every turn
Shady canopy to block the sun or rain
Stops at every memorial for you to get off and explore
Easy access for disabled or elderly guests
Strollers and folding wheelchairs welcome
Great fun for kids and adults
Flexibility with pickup times and locations
Recommendations for attractions, restaurants and more
You always have a 360 degree view
All tours are entirely customized to you
See all the monuments in 2-4 hours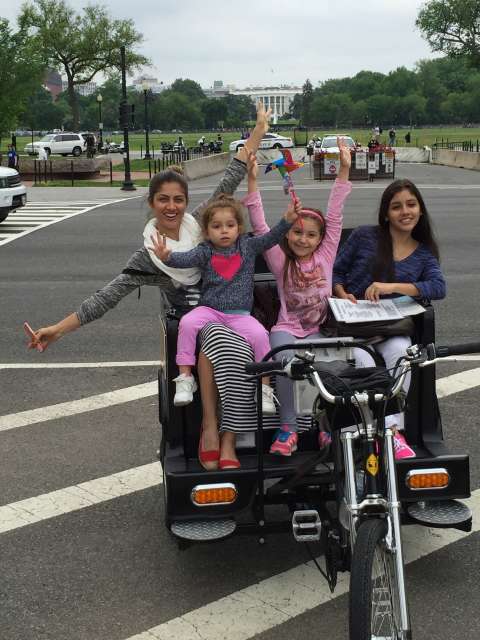 What can you see on a 2-3 hour pedicab tour of Washington DC?
You can expect to see at a minimum all of the following major memorials:What Major Attractions Will You Visit on a Tour of the DC Memorials?
✅  Lincoln Memorial
✅  Washington Monument
✅  White House
✅  Jefferson Memorial
✅  MLK Memorial
✅  FDR Memorial
✅ Vietnam War Memorial
✅  Korean War Memorial
✅  WWII Memorial
✅  Einstein Memorial
✅ & Much, Much More
More Information About a Private Tour of Washington DC?
Visit our Featured Tours page.
Visit our Tour Rates page.
Make a Reservation.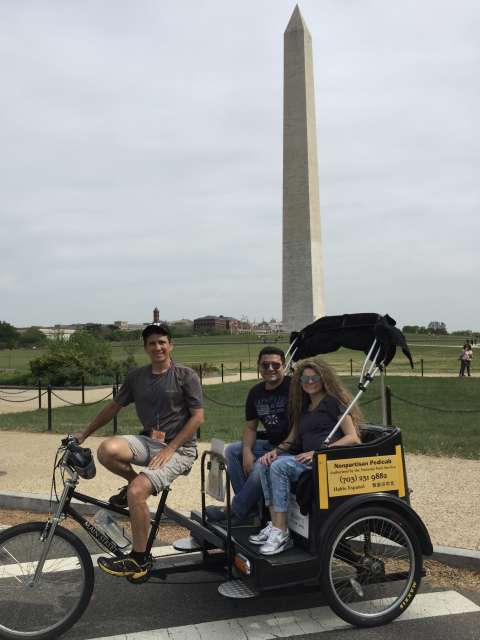 Nonpartisan Pedicab Tours of Washington DC versus Bus Tours
PEDICAB TOURS
Custom, Personal Tour — Enjoy the sights at your own pace!
Friendly tour guide converses with you
Waits for you right out front of all monuments
Always goes exactly where you want it to go
Picks up and drops you off at any downtown location
Tour guide recommends restaurants & attractions tailored to you
Easily accessible to elderly and handicapped people
Stroller and folding wheelchair friendly
See all the monuments in 1.5 – 2.5 hours
Minimal walking
Full 360 degree view for all passengers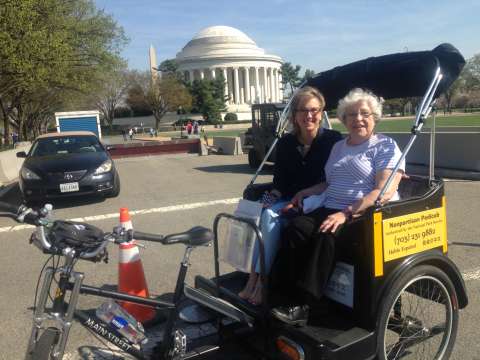 DOUBLE DECKER BUS
Guide uses loudspeaker. No personal interaction with customers.
Canned speech endlessly repeated to a crowd of people
You must search for bus stands and wait for bus
You must follow the fixed route and schedule
Set route — you must get to and from the bus
No recommendations, nothing personal about it.
Steep stairs to climb to go up to the open top
No storage for wheelchairs or strollers. You're out of luck.
Spend all day long to see the same amount
Lots of walking to find the bus stands
View only from the side of bus you are sitting on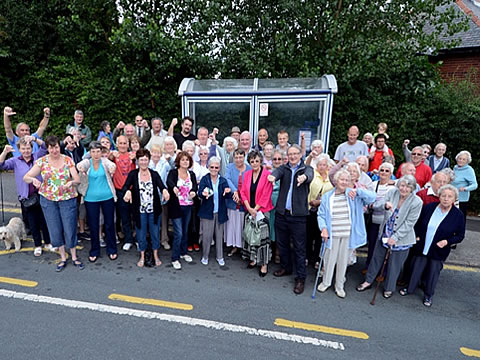 Here is the National Park Service website for more information about the National Mall?