About Nonpartisan Pedicab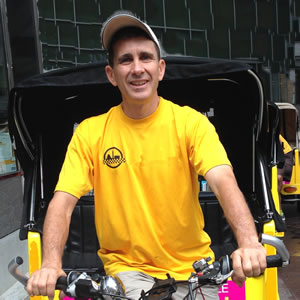 Nonpartisan Pedicab is owned and operated by Robert Hart an experienced, professional pedicab tour guide.  We provide pedicab transportation and tour services on the National Mall and throughout Washington, DC.
The operation is fully licensed by the National Park Service to operate on the National Mall.  This permit, called a CUA, requires $1,000,000 worth of liability insurance.
Robert is also a multilingual guide, speaking both Spanish and Mandarin Chinese along with a smattering of other languages.
Hablo Español.  Bienvenidos a Washington.  我会说中文 .  欢迎中国旅客
We offer advanced reservations service, on-call pick-ups, packaged recommended tours, personalized customized tours, and special event services.
When we're not showing our clients the best of Washington DC, you might find us cruising around the National Mall or waiting at dedicated pedicab stands located in front of major museums and monuments.
Call us at 703-231-9882, or book a reservation with our Online Booking Service.