Private Tours Of Washington DC
Easy Access to the Best Sightseeing in America
Take a Set Tour or Create Your Own Experience

Visit Monuments, Memorials
and Famous Landmarks
On Your Own Schedule and
At Your Own Pace
Avoid the Crowds and Grueling Long Walks
Enjoy A Tour Created Just For You
Get a Unique Look at Our National Heritage
Fun Tours include Free Pick-up
from Any Downtown Location
We Welcome Special Needs
Elderly and Disabled Assistance
Strollers and Folding-Wheelchairs
Pet Friendly
Family Friendly
Small Kids Ride for Free!
Friendly Expert Guides
Personalized Tours of the National Mall
Memories That Last a Lifetime, No Extra Charge
Call 703-231-9882
for Pick-up or More Info
Contact Us
by Form or Email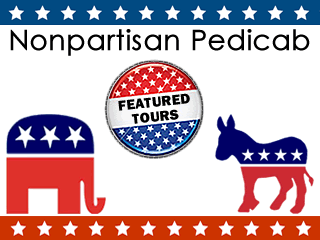 Featured Tours
National Mall Tour

DC Monuments Tour

Twilight Tour

Cherry Blossom Tour
Personal Service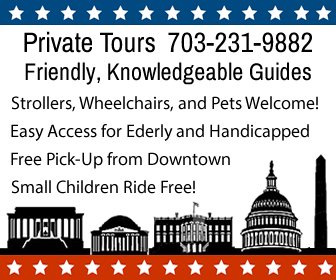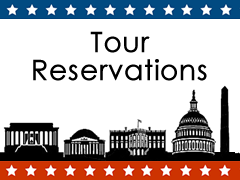 Book Online or by Phone
To Make A Reservation
Simply Call Us or Send an Email
We will confirm your tour reservation promptly by phone or email.
Secure Booking
Family Friendly
Safe, convenient and affordable transportation to the best destinations.
Stress-free sightseeing –
set your own schedule.
 Small Kids Ride Free !
Special Events
Pedicabs have long been fashionable transportation for weddings
and other special events.
Add a sense of fun to any occasion.
Large groups welcome!
Beat the Crowds
Better Than a Crowded Bus
Better Than a Gimmicky Segway
Much More Convenient Than Walking
Personalized Tours Cater to Your Needs
See More, In Less Time, With No Hassle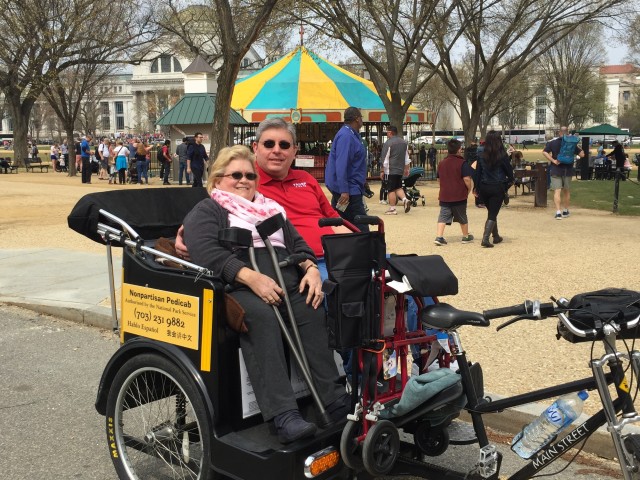 Special Needs
Pedicabs are perfect for the elderly and people with mobility issues.
Easy curbside entry without steps, and we can get in close to venues that buses can't. We easily accommodate strollers and folding wheelchairs.
Pet Friendly Tours
Don't leave your pet behind. We're happy to have them come along and we will keep an eye on them while you go into the memorials and monuments.

Five-bone rating from BringFido reviews.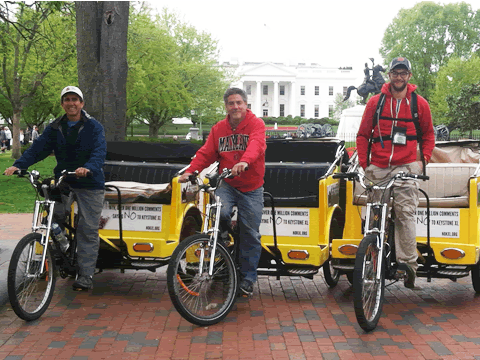 We're Ready When You Are
Advanced Reservations or On-call Service
FREE Pick-up from any downtown location.
Hablo Español.  Bienvenidos a Washington!
 我会说中文
欢迎中国旅客
Call 703-231-9882
for Pick-up or More Info
Contact Us
by Form or Email
Washington DC Sightseeing
Private Tours
Why Choose Nonpartisan Pedicab Tours?
Because it is a great way to visit the National Mall, Monuments, Memorials and Museums !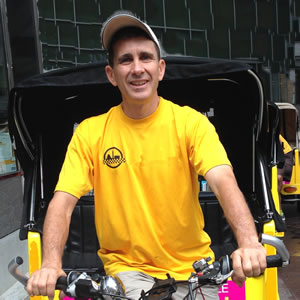 Get the most out of your time and money, hire a Pedicab
Personalized Tour With A Friendly, Knowledgeable Guide!

Start And Finish On Your Own Schedule!

Free Pick Up At Any Downtown Location!

Economical Use Of Your Time And Energy!

Get Dropped Off At The Location Of Your Choice!

Small Children Ride Free!

So Much Better Than Bus Or Segway Tours!

Much Easier and Faster Than Walking

Fully Licensed and Insured ($1,000,000)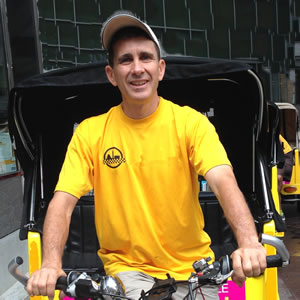 Nonpartisan Pedicab is owned and operated by Robert Hart an experienced, professional pedicab tour guide.  We provide pedicab transportation and tour services on the National Mall and throughout Washington, DC.
The operation is fully licensed by the National Park Service to operate on the National Mall.  This permit, called a CUA, requires $1,000,000 worth of liability insurance.
Robert is also a multilingual guide, speaking both Spanish and Mandarin Chinese along with a smattering of other languages.
Hablo Español.  Bienvenidos a Washington.  我会说中文 .  欢迎中国旅客
We offer advanced reservations service, on-call pick-ups, packaged recommended tours, personalized customized tours, and special event services.
When we're not showing our clients the best of Washington DC, you might find us cruising around the National Mall or waiting at dedicated pedicab stands located in front of major museums and monuments.
Call us at 703-231-9882, or book a reservation with our Online Booking Service.
Authorized by the National Park Service
Licensed and Insured
We know the National Mall like it is our own backyard (because it is!). Join us for a memorable tour of the Nation's Landmarks.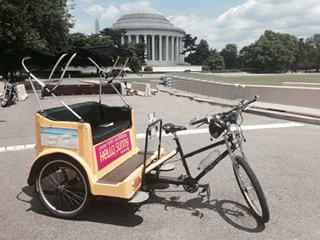 What is a pedicab? The Best Way to do Washington DC Sightseeing, of course!
Pedicabs are human powered transportation that allows you to quietly and conveniently get up close to your destination.
They can also have the added benefit of providing a professional tour guide that delivers a personal interactive experience that is just not available with other tours.
Up to 3 regular sized adults can be accommodated, as well as, folding wheelchairs or baby-strollers.  They are ideal for the elderly or people with mobility issues.
Group tours can also be easily arranged.
Many people come to DC expecting to walk all over — Smithsonian museums, Capitol, White House, Lincoln Memorial, Jefferson Memorial, etc.
On the map, everything looks close. At some point, they realize that everything is actually spread out over a large area. People become exhausted and it takes a lot of time to walk around. When that happens many worthwhile sites get missed and people think about their aching feet rather than the national heritage.
Hiring a pedicab is a very practical solution. Quick, convenient, comfortable and affordable.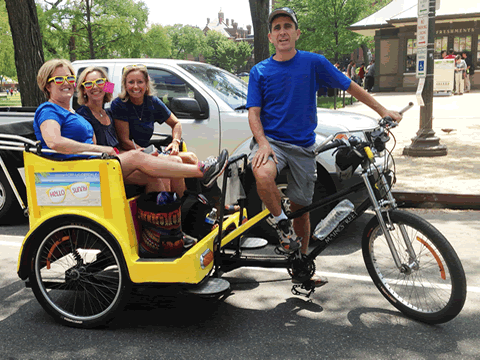 Looks like more fun, right?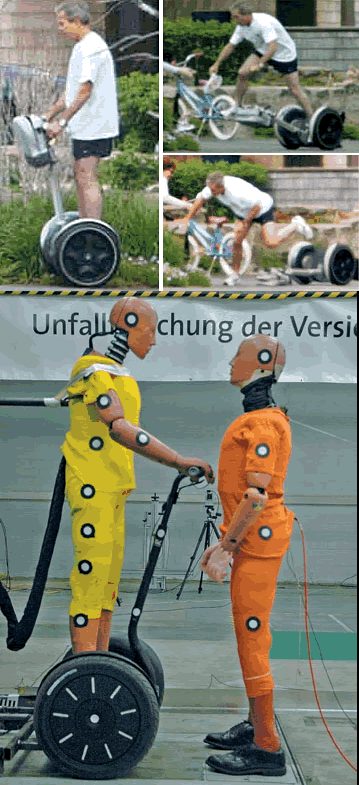 You don't need to wear a helmet on our tour… or sign a liability and insurance waiver…
A Segway Tour sounds like fun and adventure. But a trip to the emergency room can certainly ruin your vacation and using a Segway is definitely not as easy as it looks.
It can be expensive and at least a half-hour of your tour is spent on safety training instead of seeing the sights. A lot of people abandon their segway tours and end up walking.
Segways are cool transportation devices.  Under the right circumstances you can see why people refer to them as possibly changing the future of transportation.
But they are not all that great for touring the Monuments, Memorials and Museums.
Unless you want to be a crash-test dummy.
PEDICAB TOURS
Custom, Personal Tour — Enjoy the sights at your own pace!

Friendly tour guide converses with you

Waits for you right out front of all monuments

Always goes exactly where you want it to go

Picks up and drops you off at any downtown location

Tour guide recommends restaurants & attractions tailored to you

Easily accessible to elderly and handicapped people

Stroller and folding wheelchair friendly

See all the monuments in 1.5 – 2.5 hours

Minimal walking

Full 360 degree view for all passengers
DOUBLE DECKER BUS
Guide uses loudspeaker. No personal interaction with customers.

Canned speech endlessly repeated to a crowd of people

You must search for bus stands and wait for bus

You must follow the fixed route and schedule

Set route — you must get to and from the bus

No recommendations, nothing personal about it.

Steep stairs to climb to go up to the open top

No storage for wheelchairs or strollers. You're out of luck.

Spend all day long to see the same amount

Lots of walking to find the bus stands

View only from the side of bus you are sitting on
Where Can You Be Picked Up?
Free pick up is provided from downtown hotels, museums, restaurants, Metro stations, and parking lots. If you're not sure about your exact pickup location, tour duration, or tour pick-up time, that's okay. We'll discuss details when we confirm your reservation.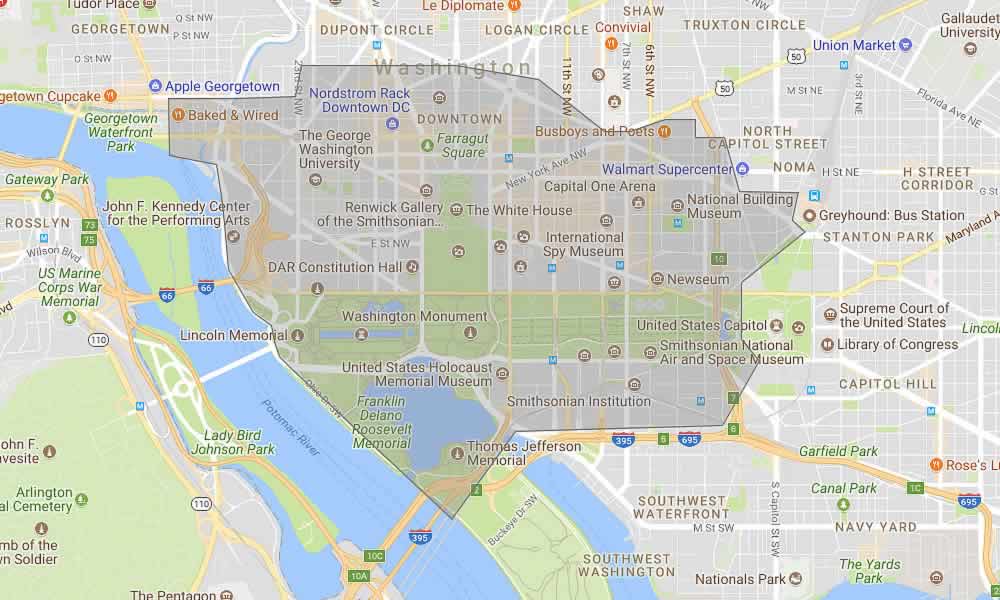 Pricing
Essential DC Monuments & Memorials Tour
2 Hours —
$297
(per pedicab)
BOOK NOW! ONLY $210    —  End of Lockdown Special!
Includes our entertaining historical narration as well as photo opportunities and stops at most of the the major Monuments and Memorials on the National Mall (as well as the White House).  Although this is a shorter tour covering all the essentials, you will still have the opportunity to stop at several memorials of your choice to go inside for photos or just to explore. This is a completely private and customized tour and includes complimentary pickup from any downtown location.
---
Classic DC Monuments & Memorials Tour
3 Hours —
$447
(per pedicab)
This expertly guided tour stops at all the Monuments and Memorials, goes around the Tidal Basin and also includes a stop to view the White House. Led with entertaining and historical narration, you will have the opportunity to get out of the pedicab and walk inside each memorial for photos or just to explore. This is a completely private tour, entirely customized to your wishes and includes complimentary pickup from any downtown location.
---
Grand Tour of the National Mall
4.25 Hours —
$637
per pedicab
In addition to all the Monuments and Memorials you would see on the VIP DC Monuments & Memorials Tour, this tour will also take you down the Presidential Parade Route along Pennsylvania Avenue with a stop on the West side of the US Capitol. We proceed down Museum Row with a broad overview of the Smithsonian Museums. This private tour may be customized as you desire and includes complimentary pickup from any downtown location.
---
All other tours as listed on our Featured Tours page are at an hourly rate of $150 per hour.
Extending your tour is easy! Additional time is priced at $150 per hour per pedicab, prorated to the length of your tour. Feel free to decide to extend while you are on your tour with us.
BOOK ANY TOUR! NOW ONLY $105 (per hour)
Pricing is per pedicab.

Generally, up to 3 adults can fit into a single pedicab*

Two small children = one adult

For a third adult, we charge an additional $20 per hour
* Two adults of any size can comfortably fit into a single pedicab. Three adults will have varying levels of comfort depending on the size of the adults.

How Much Time for a Tour?
National Monuments Tour
2 – 3 Hours
Twilight Tour of the Monuments
2 – 3 Hours
Smithsonian and Pennsylvania Avenue Tour
Minimum 1 Hour
A 5 to 6 mile loop around the national monuments takes about 1 hour of actual riding time.
The amount of time you spend on tour depends on how many stops you choose to make and how much time you take at each stop.
Are you unsure how much time you need on your tour? We extend tours all the time. We simply pro-rate the tour fee for the extra time you need to enjoy the ride.
How Many Pedicabs Do You Need?
How Many Pedicabs Do You Need?

1 adult + 2 small children = 1 pedicab
2 adults + 1 small child = 1 pedicab
2 adults + 2 small children = 1 pedicab
2 adults + 3 small children = 1 pedicab
3 adults + 1 small child = 1 or 2 pedicabs*
3 adults + 3 small children = take 2 pedicabs
3 adults = take 1 pedicab*
4 adults = take 2 pedicabs

* 3 adults generally fit into a single pedicab with varying degrees of comfort. 3 large adults may prefer to split up into 2 pedicabs for comfort. Please ask us if you have any doubts.