DC Monuments & Memorials Tour
DC MONUMENTS and
MEMORIALS TOUR
Visit 9 Major Memorials and Sights
See All the Memorials in Only 2-4 Hours
Free Pick-Up from Any Downtown Location
Customized to Your Personal Convenience
Start on Your Own Schedule and Go at Your Own Pace
Many of our guests say the DC Monuments & Memorials Tour is the highlight of their visit to Washington DC. Our private tours consistently receive rave reviews.
Your personal expert guide will meet you at any downtown location. Every tour is customized to start on your schedule and go at your own pace. At each monument or memorial, you are free to go inside for photos or simply to explore.  Your experienced and friendly pedicab tour guide will provide an in depth historical narrative as well as interesting Washington DC anecdotes to enhance your experience.
Most guests enjoy a tour lasting about 2 to 4 hours in order to see everything they want. Sightseeing usually covers about 6 miles and 19 famous landmarks, but if you want to adjust what you see, or the time you take, that's perfectly okay with us. Our pedicabs are very comfortable.  We'll get you up close to the entrance of each memorial, so don't worry about long walks. Rates are hourly, starting from only $105 per hour for two people.   
Visiting the monuments during the daytime or in the evening is a spectacular and unforgettable experience.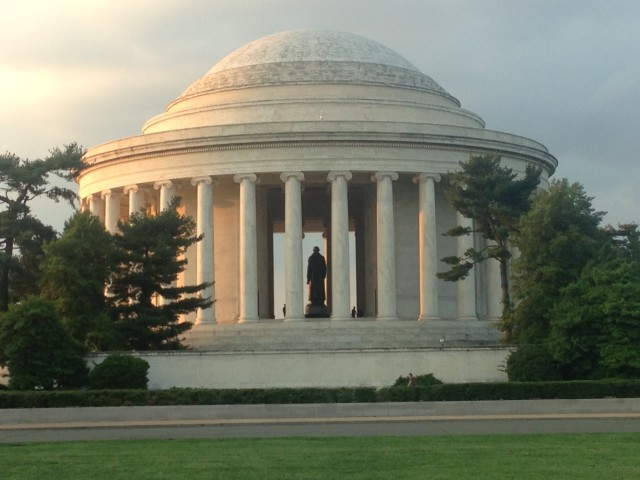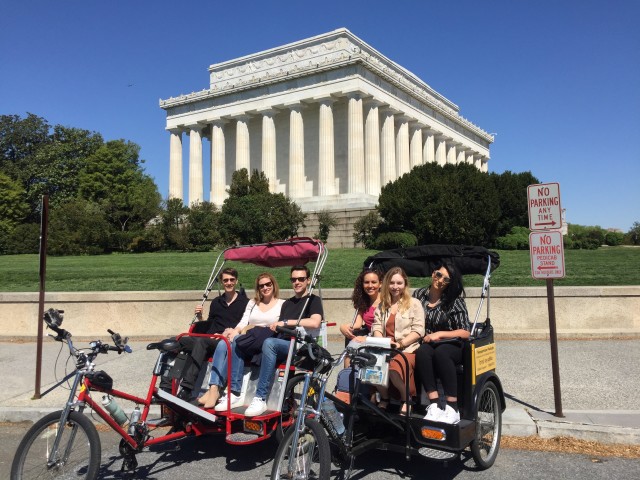 The DC Monuments and Memorials Tour is our most popular tour -- recommended for first time visitors and seasoned locals alike.  Our tours are always adapted to our individual customers. Tours can be oriented towards your kids or teenagers, visiting elderly relatives, a romantic date night, pet friendly tours, or tours for people with limited mobility.  If your time in DC is limited to a few days, or only a few hours, this is the way to get the most out of your visit to the nation's capital. Don't take our word for it - over 350 5-star reviews on TripAdvisor means we must be doing something right!
We hope you can join us. If you have any questions please call or send an email.
DC Monuments and Memorials Tour Featured Highlights
WASHINGTON MONUMENT

JEFFERSON MEMORIAL

FDR MEMORIAL

MLK MEMORIAL

LINCOLN MEMORIAL
KOREAN WAR MEMORIAL

VIETNAM WAR MEMORIAL

WORLD WAR II MEMORIAL

WHITE HOUSE

AND MUCH MORE!
Complementary pick up is provided from downtown hotels, museums, restaurants, Metro stations, and parking lots. If you're not sure about your exact pickup location, tour duration, or tour pick-up time, that's okay. We'll discuss details when we confirm your reservation.