SMITHSONIAN MUSEUMS &
PENNSYLVANIA AVENUE
Visit 24 Quintessential Iconic Washington DC Sights!
Includes the White House, US Capitol, Washington Monument & Many Others
Recommended Tour Duration is 1½ - 2 Hours, Some Customers Want More
Pennsylvania Avenue offers a great way to see some of the best sightseeing in DC. Every block features wonderful architecture and history. This tour is ideal for people who have already visited the National Mall or who want to see the heart of the working city. This popular tour can also be added on to the beginning or end of a DC Monuments and Memorials Tour. 
Your expert guide will meet you at the downtown location of your choice to begin your tour (please see pickup map below).  We follow the presidential inaugural route between the US Capitol and the White House, and we also cover the Smithsonian Museums and the Washington Monument. On this tour, we will also pass numerous impressive government buildings, where the day to day work of our government goes on.
This tour generally takes 1½ - 2 hours. Sightseeing usually covers about 3 miles and 24 famous landmarks, but if you want to adjust and customize what you see, and the time you take, that's fine with us. Our cabs are convenient and comfortable; not much walking is required on this tour. Rates are hourly, starting from only $105 per hour for two people.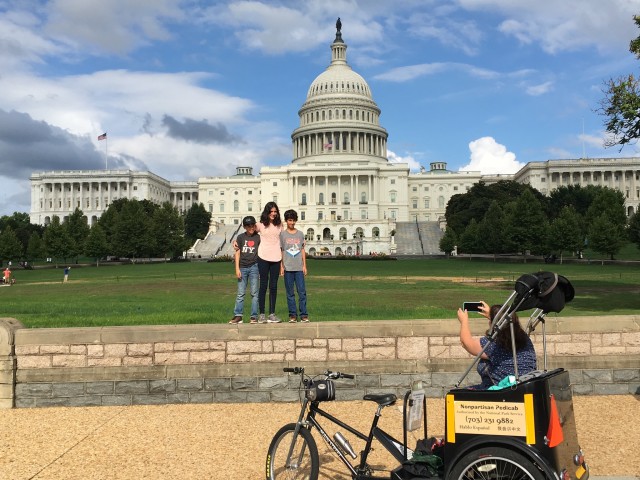 Smithsonian Museums and Pennsylvania Avenue Tour Featured Highlights
US CAPITOL
WHITE HOUSE
WASHINGTON MONUMENT
NATURAL HISTORY MUSEUM
AMERICAN HISTORY MUSEUM
SMITHSONIAN CASTLE
AIR AND SPACE MUSEUM
NATIONAL GALLERY OF ART
AMERICAN INDIAN MUSEUM
NEWSEUM
FBI HEADQUARTERS
OLD POST OFFICE TOWER
US BOTANIC GARDEN
NATIONAL ARCHIVES
US NAVY MEMORIAL
ULYSSES S. GRANT MEMORIAL
CANADIAN EMBASSY ECHO CHAMBER
DC MUNICIPAL BUILDING
ALEXANDER HAMILTON AND BEN FRANKLIN STATUES
ENVIRONMENTAL PROTECTION AGENCY
TRUMP INTERNATIONAL HOTEL
IRS HEADQUARTERS
WILLARD HOTEL
PRESIDENTIAL INAUGURAL PARADE ROUTE
Free pick up is provided from downtown hotels, museums, restaurants, Metro stations, and parking lots. If you're not sure about your exact pickup location, tour duration, or tour pick-up time, that's okay. We'll discuss details when we confirm your reservation.