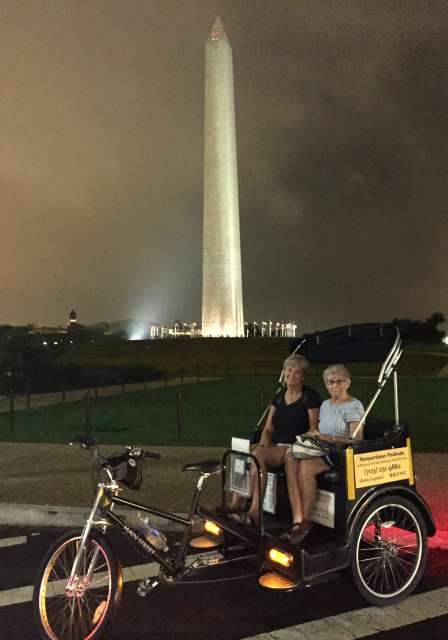 A Pedicab Tour — Washington DC Sightseeing Made Simple
Everyone wants to walk around the all the monuments on the National Mall.  But, a full loop of walking around the national monuments is 5-6 miles.  You can do it, but it is likely to be tiring and difficult.  But, you do have an alternative to walking.  How about trying a Nonpartisan Pedicab private tour of the monuments — Washington DC Sightseeing made simple!  In only 2-3 hours, you can see all of the major monuments at your own pace and on your own schedule.
Which Monuments Will I See?
There are 10 major sites to see on your tour.  At each, you will be free to walk in to take pictures and explore:
Lincoln Memorial
Jefferson Memorial
MLK Memorial
FDR Memorial
Washington Monument
WWII Memorial
Vietnam War Memorial
Korean War Memorial
White House
Albert Einstein Memorial
You will be chauffeured by your personal tour guide.  A fun and fact filled description of each of the monuments and how they fit in with American history.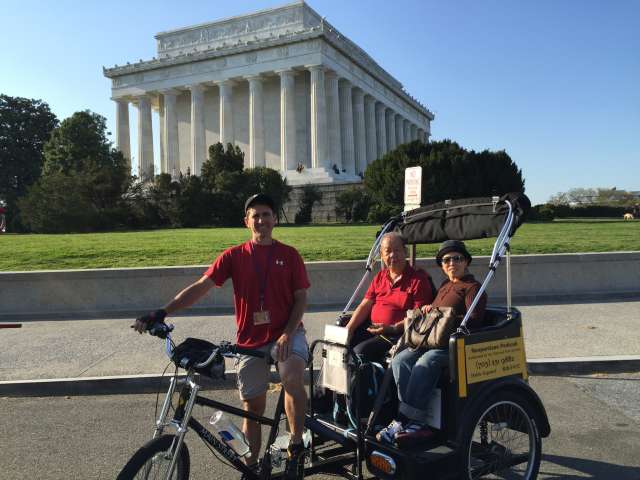 Why Choose a Nonpartisan Pedicab Tour over a Segway Tour?
On a pedicab tour, you will visit all the monuments in 2-3 hours.  On a Segway tour, you will not visit all the monuments
On a pedicab tour, you will have shade.  On a Segway tour you will not.
On a pedicab tour, you will have your own private tour guide to interact with.  On a Segway tour, you will be in a group setting and have only limited personal interaction with your guide.
On a pedicab tour, we pick you up from any downtown location.  On a Segway tour, you must go to their office and finish at their office.
On a pedicab tour, you start at the time you want and go at your own pace.  On a Segway tour, you will go at the guide's pace and stay on the company schedule.
On a pedicab tour, you will be seated during your tour.  On a Segway tour, you will be on your feet the whole time.
A pedicab tour is the perfect choice if you are not very mobile.  A Segway tour is not possible for anyone with mobility issues.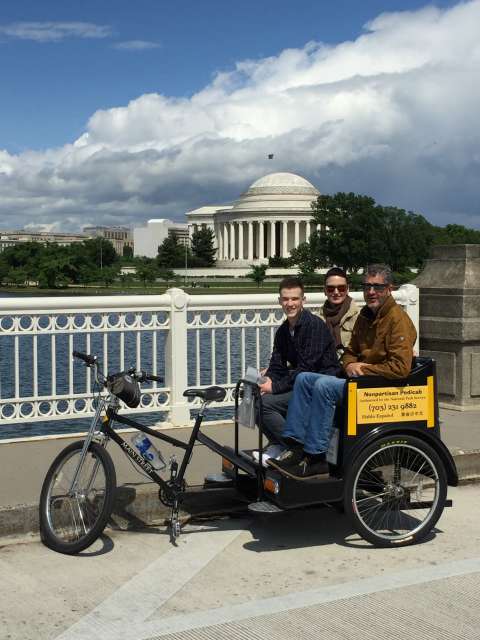 Nonpartisan Pedicab Tours of Washington DC versus Bus Tours
PEDICAB TOURS
Custom, Personal Tour — Enjoy the sights at your own pace!
Friendly tour guide converses with you
Waits for you right out front of all monuments
Always goes exactly where you want it to go
Picks up and drops you off at any downtown location
Tour guide recommends restaurants & attractions tailored to you
Easily accessible to elderly and handicapped people
Stroller and folding wheelchair friendly
See all the monuments in 1.5 – 2.5 hours
Minimal walking
Full 360 degree view for all passengers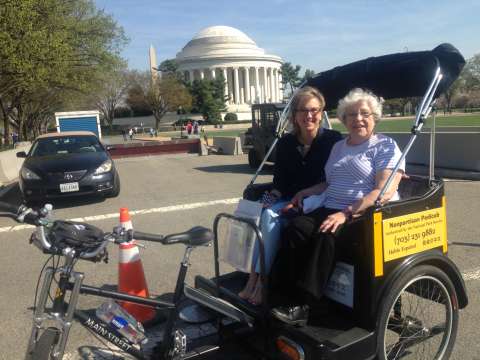 This?
DOUBLE DECKER BUS
Guide uses loudspeaker. No personal interaction with customers.
Canned speech endlessly repeated to a crowd of people
You must search for bus stands and wait for bus
You must follow the fixed route and schedule
Set route — you must get to and from the bus
No recommendations, nothing personal about it.
Steep stairs to climb to go up to the open top
No storage for wheelchairs or strollers. You're out of luck.
Spend all day long to see the same amount
Lots of walking to find the bus stands
View only from the side of bus you are sitting on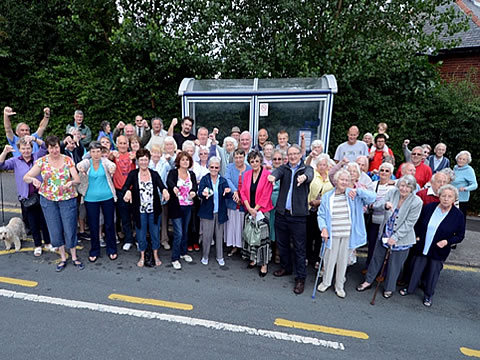 or This?