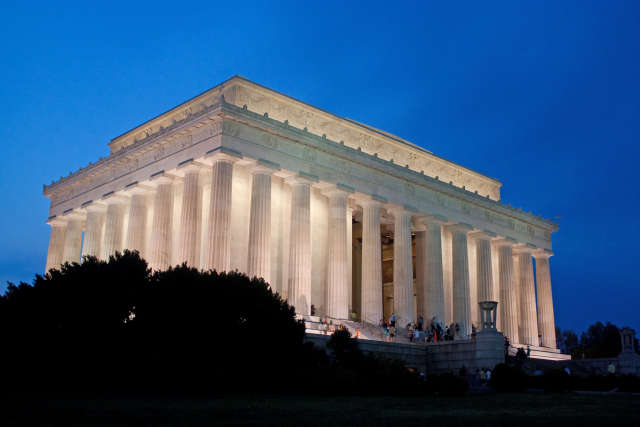 Lincoln Memorial Parking
Lincoln Memorial parking on the street is very limited.  The most important thing is to pay attention to the signs.  US Park Police frequently issue tickets on Constitution Avenue at certain times of the day.  All spots are parallel parking, so if you don't like to parallel park, you may wish to park in a commercial parking garage.  Unfortunately, all commercial parking garages are at least one mile away.
On-street parking on the National Mall is no longer free of charge.  Three hour parking is available at $2 per hour.  Parking meters only accept credit cards.
Alternative to Lincoln Memorial Parking
Why not just leave your car in a parking garage and take a tour of the monuments with Nonpartisan Pedicab?  This is really the best way to see the Lincoln Memorial and all the other major memorials as well.  This tour takes you on a 6 mile loop around all the memorials, and gives you time to get out and see each of them.  You can see all of the memorials and get back to your car in about 2-3 hours without worrying about finding a parking space, getting a ticket, or walking long distances between the various memorials.  Always better to book in advance, but we also take last minute bookings. No matter where you have finally parked, just give a call to 7032319882, and if we are available, we will come and get you and drop you back off at your car after your tour.

Handicap Parking at the Lincoln Memorial
Daniel French Drive is only open to buses, taxis, bicycles, pedicabs, and handicapped vehicles.  There is handicapped parking on Daniel French Drive, and it is very convenient to the Lincoln Memorial.  Spots are limited, though.   Vehicles without a handicap sticker can expect a $250 ticket for parking in a handicap spot.  The ranger kiosk here offers the free use of a wheelchair upon presentation of an ID card.
Parking on Constitution Avenue
There is some metered on-street Lincoln Memorial parking on Constitution Avenue.  The most important thing to remember here is NOT to park between 4:00 and 6:30 PM in the afternoon on weekdays.  During rush hour, the parking lanes become traffic lanes.  Your chance of getting a $50 ticket during those hours is 100%.  At non rush hours, there is free 3 hour parking between 21st Street and 15th Street on Constitution Avenue.
Parking on Ohio Drive
This might be a better alternative for Lincoln Memorial parking because there are no rush hour restrictions to parking here.  There is metered 3 hour parking next to the Potomac River for almost a mile, but the closer you get to the Lincoln Memorial, the more competitive it is to get a parking spot.  This option also leaves you closer to the FDR Memorial, the MLK Memorial, and the Jefferson Memorial than does Constitution Avenue.  Just be aware, that from Ohio Drive, you will be doing a considerable amount of walking to visit any of these memorials.
On-street parking on the National Mall is no longer free of charge.  Three hour parking is available at $2 per hour.  Parking meters only accept credit cards.
Parking at the Jefferson Memorial Parking lots
Except during the full bloom of the Cherry Blossom season, you are always going to find parking at 3 parking lots along the Potomac not particularly far away from the Jefferson Memorial.  The only downside to this option is that you have a long walk to the Lincoln Memorial — about a mile.  At least you are not going to get a ticket.  This is the only location of those listed where you do not have to parallel park.  Warning:  During the peak bloom days of the Cherry Blossom Festival, you will be very lucky to find parking here.  During the peak bloom, you are going to waste hours of your time looking for on-street parking.  Go directly to a commercial parking garage or take the Metro into DC.
Commercial Parking Garages
A good bet is to park at the at the commercial parking garage at the Ronald Reagan Building.  The address is 1300 Pennsylvania Avenue NW.  Main entrance is on 14th Street between Constitution and Pennsylvania Avenues.  There is also an entrance at Pennsylvania Avenue westbound at 13 1/2 Street.  This is a central location for the museums and the monuments, but you are about 1.5 miles from the Lincoln Memorial from here.  To visit DC, you are going to have to accept that there is a lot of walking.  If you want to drive into town,  this is the most convenient option to see everything the National Mall has to offer.  They never run out of space here, and prices are pretty standard for DC.  Expensive, but not more expensive than other commercial parking lots.  If you want to not worry about finding parking or getting a ticket, then park here. This is a great pickup location to begin a pedicab tour of the monuments.  You can go to all the monuments in about 2-3 hours on a private pedicab tour with Nonpartisan Pedicab.
More Info on the National Mall
You can get more information about the National Mall directly from the National Park Service website.