How Can Seniors Visit the National Mall?
How can seniors visit the National Mall?  Isn't there a lot of walking to see all the memorials?  How will I be able to easily get around Washington DC?  How can I get from my hotel to the National Mall? Great questions.  The answer is that there is an easy solution.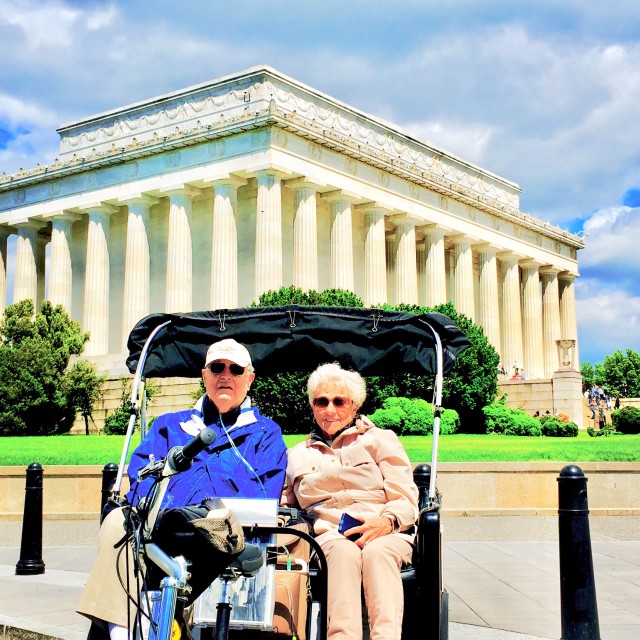 A Private Tour is the Easy Way to Visit the National Mall
Nonpartisan Pedicab offers private tours of Washington DC.  On our tours we will:
Pick you up for free from any downtown location — hotels, restaurants, parking garages, Metro stops, museums, etc.
At the end of your tour, we will drop you off at any downtown hotel, restaurant, Metro station, or at your car.
Get you very close to each of the memorials.  You will have much less walking to do than any standard bus tour or even any other private tour option.
Let you get out and visit each memorial at your own pace.
Give you a detailed tour narrative about each of the monuments and the people or historical events that these monuments commemoriate.
Help you find the very best photographic opportunties.  With all our experience, we know the best angles and techniques to get the best photos.  We take into account lighting, angles, and photo enlargement.  We are happy to take photos of you with the monuments as backdrop.
Give you insider recommendations on everything Washington DC, including restaurants, museums, and things to do.
Every tour starts on your own schedule and goes at your own pace.
Reservations For the Best Private Tour in Washington DC
What Monuments Should I Visit on the National Mall?
There are 9 major memorials on the National Mall, and quite a few other memorials of great interest.  We can visit them all at your own pace.  At each memorial, you will have the opportunity to get out of the pedicab and go inside to explore or take photographs.
Lincoln Memorial
Jefferson Memorial
Washington Monument
White House
US Capitol
WWII Memorial
Vietnam War Memorial
MLK Memorial
FDR Memorial
Korean War Memorial
In addition, you will see the imposing government administrative buildings at Federal Triangle, the Smithsonian Museums, and Pennsylvania Avenue (America's Main Street).  As we go, we will see many smaller memorials and buildings of historical interest. Many of these "smaller" memorials are quite impressive.
How Can I Get Around the National Mall with a Walker or a Wheelchair?
We can accommodate any kind of walker, and most foldable wheelchairs.  You will also have room for your bags and other things, and we can keep them for you on the pedicab while you explore each memorial.
Does your tour business have any reviews?
Nonpartisan Pedicab has more than 500 reviews — with over 99% of those reviews are 5 stars.  In over 500 reviews, we have had no bad reviews at all.  You cannot beat our record anywhere.  Please check out our latest reviews from Tripadvisor, Google, Yelp and Facebook.
Does Your Business Have Any Covid Safety Measures?
Absolutely.  A pedicab tour is a private tour.  You will not be sharing with anyone outside of your own party.  Your tour guide sits in front at some distance away from you. Also, our main tour guide, Robert Hart, is also the owner of Nonpartisan Pedicab. Robert has already recovered from a case of Covid, and presumably is unlikely to catch or transmit Covid in the future.
We provide masks if you should need one.
Our pedicabs are wiped down with disinfectant before every tour
Free hand sanitizer