Washington DC Private Tours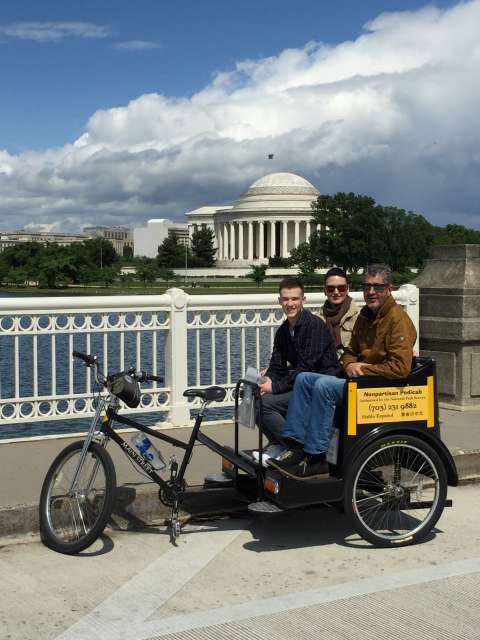 Searching for the best Washington DC private tours?
Enjoy your own private tour of Washington DC with Nonpartisan Pedicab.  See all the monuments, the US Capitol and the White House on your own schedule and at your own pace.  Here are a few advantages of visiting DC with Nonpartisan Pedicab:
Nonpartisan Pedicab can pick you up for free from any downtown location.
Friendly and knowledgeable  local tour guide
Personalize your tour to visit whatever most interests you
Start and finish on your own schedule
Go at your own pace
Small kids ride for free
Friendly, knowledgeable tour guide
The sun can be fierce in DC — the pedicab has a shady canopy to protect you from sun or rain
You can stop at each monument and memorial and walk in to take pictures
You can leave your bags in the pedicab while you are walking around the monuments
Perfect solution for elderly or disabled guests.  It is very easy to get in and out of the pedicab
Large items like strollers and folding wheelchairs can be taken with you on the pedicab
Kids always have fun on a pedicab ride.  Adults do, too.
Flexible pick up times always according to your own schedule.
We can recommend local area attractions to visit or places to eat.
360 degree view at all times
See all the monuments in 2-3 hours
Private Tours of Washington DC — Reserve Now!
You can see all the monuments in only 2-3 hours!
A pedicab tour of Washington DC will allow you to save time.  On a hop on hop off tour bus, you would probably spend an entire day to be able to visit all the memorials.  And, you would have to walk much more in order to access them.
Washington Monument
White House
Jefferson Memorial
Franklin Delano Roosevelt Memorial
Martin Luther King Memorial
Lincoln Memorial
Korean War Memorial
Vietnam War Memorial
WWII Memorial
Einstein Memorial
And much more!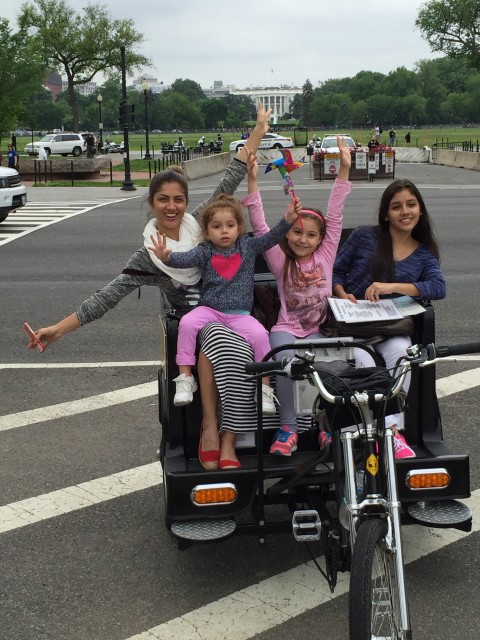 What Major Attractions Will You Visit on a Tour of the DC Memorials?
✅  Lincoln Memorial
✅  Washington Monument
✅  White House
✅  Jefferson Memorial
✅  MLK Memorial
✅  FDR Memorial
✅ Vietnam War Memorial
✅  Korean War Memorial
✅  WWII Memorial
✅  Einstein Memorial
✅ & Much, Much More
More Information About a Private Tour of Washington DC?
Visit our Featured Tours page.
Visit our Tour Rates page.
Make a Reservation.
Here is the National Park Service website for more information about the National Mall?