Washington DC Dog Friendly Tours
Washington DC Dog Friendly Tours Made Easy
Want to tour the monuments and take your dog with you?  You can't do that on the bus tour.  Try taking one of our Nonpartisan Pedicab dog friendly tours.
We have comfortable seating for you and your dog
Free pick up from any downtown location
Go at your own schedule and at your own pace
Stop at each monument to get out and explore
Friendly, knowledgeable tour guide
Our customer reviews are fantastic!
We love dogs.  Feel free to leave your dog with us while you go and visit the monuments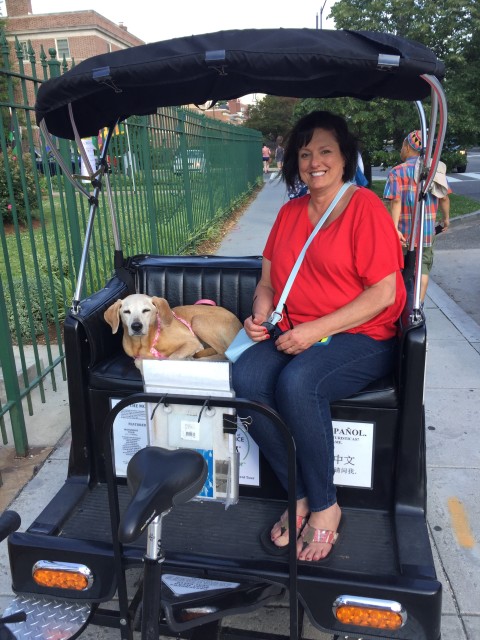 What do customers say about our Washington DC Dog Friendly Tours?

We were driving through Washington, looking for a tour we could bring our dog on. We found this one on a dog friendly website. We called the same day and luckily they were available to take us. They recommended where to park our car and then would pick us up at any location. What an amazing find! Alex was our fantastic guide, very informative, friendly, kind and flexible with itinerary options. We enjoyed it so much, we are now planning to return to Washington to visit some of the sites. Thank again!
Skipper was so happy to be in the pedicab. Just sat there and watched the world go by. She is pretty small, and we were able to carry her in our arms into each of the monuments. I think this frowned upon officially, but nobody said anything negative. Robert gives a great tour of the monuments. His command of the history of DC as well as American history is impressive and profound. We learned so much about the city! It's not all that cheap, but the experience is well worth the money. We covered all the major memorials in a little under 3 hours, taking our time at each one. Robert also knew all the best places to stop for photos while riding. Fantastic!
This was a great tour. I dont walk all that well, so I was reluctant to spend hours on my feet visiting the various monuments on the National Mall. I had my two darlings with me (Frodo and Sam), which meant that I couldnt take a regular tour. Luckily, I ran into Robert, a pedicab driver with Nonpartisan Pedicab. It was no problem to take Frodo and Sam on the pedicab. They loved the ride. Robert said that he has often taken much larger dogs as well. Anyway, in about two hours we visited all the monuments. Robert was happy to look after the dogs while I went in to take some photos. Just perfect!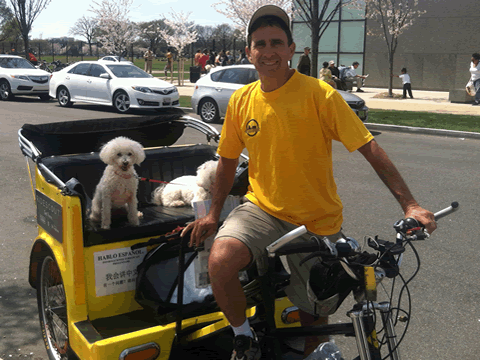 What will you see on a dog-friendly tour of Washington DC?
Washington Monument
White House
Lincoln Memorial
Jefferson Memorial
MLK Memorial
Vietnam Memorial
Einstein Memorial
& Much, Much More
How Much Does a Nonpartisan Pedicab Dog-Friendly Tour Cost?
Dogs always ride for free!  Human rates start at $45 per person per hour.
Check out our Tour Rates!