US Capitol — Things to do in Washington DC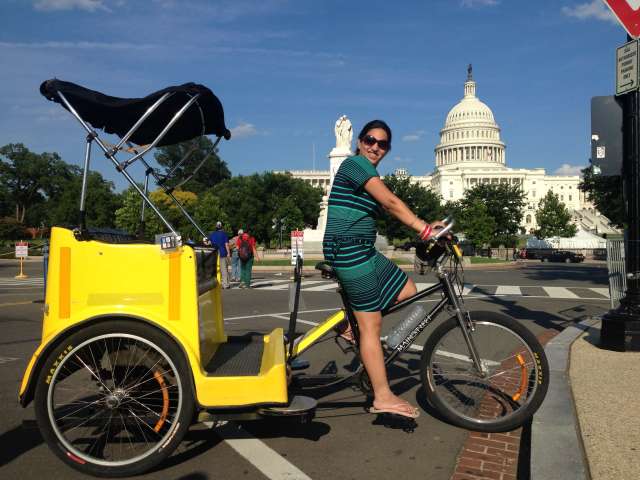 Tour to the US Capitol — Places to see in Washington DC
The US Capitol is truly the most magnificent building in Washington DC. The National Mall extends from the steps of the US Capitol all the way until the Lincoln Memorial — a distance of about 2.5 miles. Visitors come to see the US Capitol by day or by night to take photos or to admire the building. However, if you wish to visit the interior of the building, you have two choices. The first is to go to the US Capitol Visitor Center. The best option here is to book a free tour via the US Capitol Visitor Center website, http://www.visitthecapitol.gov/plan-visit#.U-wXTvldXKA. However, if you simply show up at the US Capitol Visitor Center between 8:50 AM until 3:20 PM Monday through Saturday, they will try to accommodate you if there is available room. The US Capitol Visitor Center is located on the east side of the Capitol — the side facing away from the National Mall. Across the street are two remarkable buildings — the US Supreme Court and the US Library of Congress, both of which are open to public visit.
Great views of the US Capitol are part of our Featured Tours at Nonpartisan Pedicab.
The second way to visit the US Capitol is to go to the website of your US Congressman or Senator. On their home pages, they usually have a way to book a more detailed tour with a member of their staff. This tour is far superior to the tour that is given by the US Capitol Visitor Center because you get guided through by a personal guide rather than as part of a large group.
The grounds of the US Capitol are administered by the Architect of the Capitol. There are several interesting sites on the grounds. The United States Botanic Garden, open 10AM to 5:00 PM 7 days a week is free to the public. Get more information at http://www.usbg.gov/. The Ulysses S. Grant Memorial is directly in front of the west side of the US Capitol and on the edge of the US Capitol Reflecting Pool.