Private Tour Guide Washington DC
Looking for the Best Private Tour Guide in Washington DC?
If you are looking at various options for private tours of Washington DC, your best choice just may be to take a tour of the monuments with Nonpartisan Pedicab.
Nonpartisan Pedicab is owned and operated by Robert Hart an experienced, professional pedicab tour guide.  We provide pedicab transportation and tour services on the National Mall and throughout Washington, DC.
The operation is fully licensed by the National Park Service to operate on the National Mall.  This permit, called a CUA, requires $1,000,000 worth of liability insurance.
Robert is also a multilingual guide, speaking both Spanish and Mandarin Chinese along with a smattering of other languages.
Hablo Español.  Bienvenidos a Washington.  我会说中文 .  欢迎中国旅客
We offer advanced reservations service, on-call pick-ups, packaged recommended tours, personalized customized tours, and special event services.
When we're not showing our clients the best of Washington DC, you might find us cruising around the National Mall or waiting at dedicated pedicab stands located in front of major museums and monuments.
Call us at 703-231-9882, or book a reservation with our Online Booking Service.

Let us take you on a 2-3 hour pedicab tour of Washington DC
On your tour, you can stop at the Washington Monument, the Jefferson Memorial, the FDR Memorial, the MLK Memorial, the Lincoln Memorial, the Korean War Memorial, the Vietnam War Memorial, the Albert Einstein Memorial, the WWII Memorial, and the White House.
Feel free to get off the pedicab at each of these locations and go inside to take pictures or enjoy the view.
To visit all these locations on a hop on hop off bus tour would certainly take you all day and require much more walking around and waiting for the next bus to appear.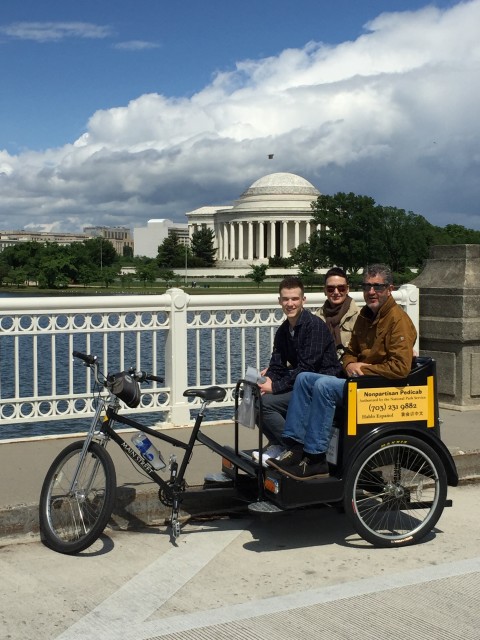 Some advantages of a private tour by pedicab include:
Free pickup at any downtown location
Drop off at any DC location of your choice at the end of your ride
Go at your own pace and on your own schedule
Easy access to the pedicab for those who have trouble walking
Shady canopy
Every seat is a window seat
Personal tour guide who is friendly and knowledgeable
Stop where and when you like to take photos
Great historical narrative personalized to your interests
Small children ride free
While visiting the monuments, feel free to leave bags, jackets, strollers, etc on the pedicab safely
Set your own schedule
What Major Attractions Will You Visit on a Tour of the DC Memorials?
✅  Lincoln Memorial
✅  Washington Monument
✅  White House
✅  Jefferson Memorial
✅  MLK Memorial
✅  FDR Memorial
✅ Vietnam War Memorial
✅  Korean War Memorial
✅  WWII Memorial
✅  Einstein Memorial
✅ & Much, Much More
More Information About a Private Tour of Washington DC?
Visit our Featured Tours page.
Visit our Tour Rates page.
Make a Reservation.