National Museum of the American Indian — Places to Visit in Washington DC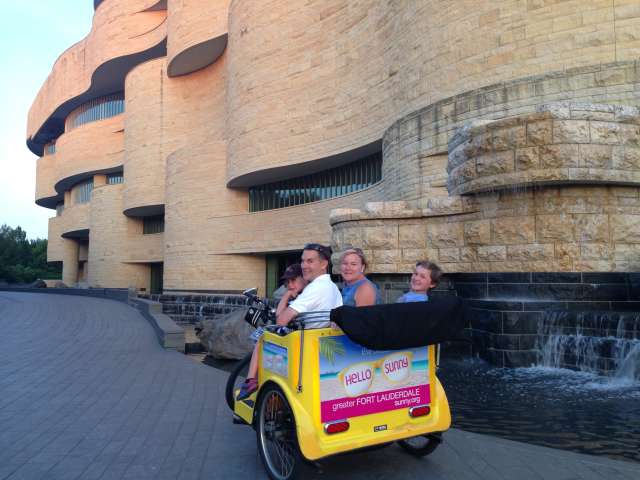 The National Museum of the American Indian is located on the National Mall at 3rd Street and Maryland Avenue. Open every day of the year except Christmas from 10:00 AM to 5:30 PM. Entry is always free of charge. Handicapped accessible. The nearest Metro stations are at Federal Center SW for the Orange and Blue lines or at L'Enfant Plaza, where you can take the Orange, Blue, Yellow and Green lines. Smithsonian Metro is further away. Metered parking is available on Madison and Jefferson Drives on the National Mall, but there are limited spaces. There is handicapped only parking both on Jefferson Drive as well as on Maryland Avenue. There are nearby commercial parking garages on 6th Street SW. The National Museum of the American Indian is the newest Smithsonian museum. It opened to the public in 2004. The Mitsitam Cafe and Espresso is renowned as the best food on the National Mall. They serve many Native American foods. In fact, there is a garden of edible foods native to the New World just outside the museum doors where they grow some of the food served in the cafe. There is also a gift shop on the second floor. The exhibitions at the museum center around Native American cultures of the United States rather than the Aztecs or the Incas. The architecture of the building is fantastic, and one should walk around the perimeter to enjoy it. The five-story, 250,000-square-foot, curvilinear building is clad in a golden-colored Kasota limestone designed to evoke natural rock formations shaped by wind and water over thousands of years. A "stream" runs outside the exterior of the north side of the building culminating in a waterfall. On the second floor is a fantastic view of the United States Capitol. The National Museum of the American Indian is a fascinating destination that will be enjoyed by both adults and children.
On-street parking on the National Mall is no longer free of charge.  Three hour parking is available at $2 per hour.  Parking meters only accept credit cards.