Parking at the Smithsonian Natural History Museum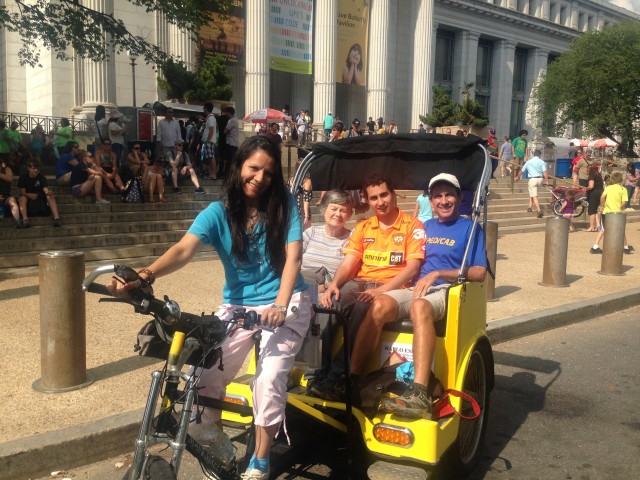 Parking at the Smithsonian Natural History Museum
Parking at the Smithsonian is never easy, but is also not impossible.  Your best chance to score a parking spot at the Smithsonian Natural History Museum is to arrive by 10:00 AM.  Parking on Madison Drive is metered at $2 per hour for a maximum of 3 hours.  There is no parking on Constitution Avenue.
Be careful to read the signs.  There are a multitude of special parking spots on Madison Drive.  Most importantly, do not park in handicapped parking.  If you do not have tags, you can count on a $250 ticket when you come out of the museum.  Parking in a taxi stand, a loading zone or other special zones will usually set you back $32 for a ticket.
Is Parking on the National Mall the best option?
Rather than drive your car in and attempt to find scarce parking, you might alternatively consider a private tour around the monuments beginning or ending at the Smithsonian Natural History Museum. This is a particularly good option for anyone with limited mobility looking to visit Washington DC.
Nearby Alternative Locations to Parking at the Smithsonian Natural History Museum
Two one-way streets go along the National Mall past many of the Smithsonian museums.  Jefferson Drive runs east, and Madison Drive runs west.  There are many metered 3-hour parking spots along these two streets, but these spots get filled fairly quickly.
There is also some parking along the cross streets — 3rd, 4th, 7th and 14th Streets all have metered parking as well.  On 7th and 14th Streets, there are rush hour restrictions.  If you do not move your car by 4:00 PM on weekdays, expect to have your car towed and a hefty ticket.
On weekends and holidays, it is hard to find a spot in this area unless you arrive early (before 11:00 AM).
You cannot leave your car on the National Mall overnight.  After 1:00 AM, they will tow your car.
On-street parking on the National Mall is no longer free of charge.  Three hour parking is available at $2 per hour.  Parking meters only accept credit cards.
CLICK HERE TO SEE THE TOP THINGS TO DO IN DC

Looking for things to see on the National Mall? Take a look at these things to do while visiting DC.  Here's how to take advantage of visiting all the monuments and memorials and museums that DC has to offer.
Parking at the Smithsonian — Commercial Parking Lots Nearby
There are commercial parking garages on all the cross streets north of Pennsylvania Avenue.  The nearest to the Smithsonian Natural History Museum is on 10th Street between Pennyslvania and E Streets.  A popular garage that never runs out of space (except possibly on major holidays) is the parking garage under the Ronald Reagan Building.  Very centrally located.   Weekday rates in 2022 are $25 for up to 15 hours and $17 all day on weekends.
Top 5 Washington DC Museums
Handicapped Parking at the Smithsonian Natural History Museum
There is handicapped parking on Madison Drive near the entrance to the museum.  The museum has added two wheelchair accessible ramps that will take you to the top of the steps at the Madison Drive entrance, but these are rather long and steep.  If there is a line to get into the museum, these ramps also take you directly to the front of the line.  The Constitution Avenue entrance is easier, with much less uphill ramp, but there is no street parking of any kind.
Additional Information about Parking at the Smithsonian and around the National Mall.
Some additional information can be gleaned from the National Park Service website.  Another good source of information can be found on the About DC website.
Touring the National Mall
Your best bet is to take a private tour of Washington DC with Nonpartisan Pedicab.  Many people say that a pedicab tour is the highlight of their visit to Washington DC.
Taking the Metro to the Smithsonian Natural History Museum
This is a much better option.  There are several nearby stations.  On the Blue/Orange/Silver lines, both Smithsonian Metro and Federal Triangle are equidistant from the Natural History Museum.  If you come in on the Yellow/Green lines, the Archives/Navy Memorial stop is not far away either.  If you come in on the Red line, perhaps you should change trains to get on one of the other lines that are somewhat closer to the museum.
Opening Hours at the Smithsonian Natural History Museum
The Smithsonian Natural History Museum is open daily from 10:00 AM to 5:30 PM. In past years, the Smithsonian had extended hours for some museums during the summer months. This may or may not happen in 2022.
Tickets to the Smithsonian Natural History Museum
Always free.  Open every day of the year except Christmas.