Smithsonian Museum of Natural History — Things to See in DC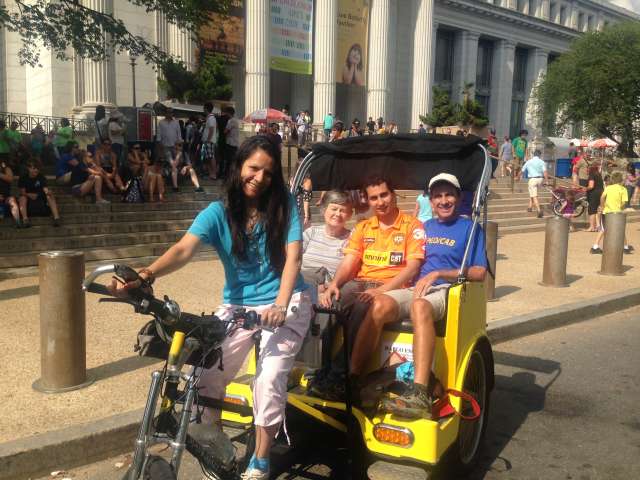 Smithsonian Museum of Natural History:  Places to tour in Washington DC
The Smithsonian Museum of Natural History is the most visited museum in Washington DC. Summer hours are from 10:00 AM to 7:30 PM most days. From Labor Day until Memorial Day, the museum usually closes at 5:30. Open 7 days a week, 364 days a year. Closed on Christmas. Always free of charge. Handicapped accessible entrance via Constitution Avenue at 10th Street.
A visit to the Smithsonian Museum of Natural History is part of the itinerary on our Featured Tours.
The National Mall entrance on Madison Drive. Nearest metro stations are Smithsonian or Federal Triangle metro stations on the Orange and Blue lines, or Navy Memorial/Archives metro on the Yellow and Green lines. Free parking is available on the National Mall along Madison and Jefferson Drives, but is quite limited. Handicapped parking spots are available near the Madison Drive entrance. North of Pennsylvania Avenue, there are commercial parking garages on every numbered street.
On-street parking on the National Mall is no longer free of charge.  Three hour parking is available at $2 per hour.  Parking meters only accept credit cards.
A great place to see more information and current temporary exhibits can be found at the official website — www.mnh.si.edu/
There is a restaurant and gift shop inside the museum as well as a food kiosk on the National Mall outside of the museum. On the Constitution Avenue side, there are hot dog and souvenir trucks, but they must leave after 4:00 PM because of rush hour. There are several restaurants nearby along Pennsylvania Avenue and E Street. The Sculpture Garden of the National Gallery of Art has a cafe and is right next door to the museum. The Natural History Museum also has two paid exhibits. The first is a live butterfly room that you can enter, which costs $6 for adults and $5 for children. There is also an IMAX theater that always has two or three different choices of documentary films. Adults $9, children $7.50. Some of the major exhibits include: 1) the Hall of Mammals; 2) a gemstone exhibit, which includes the Hope Diamond, the largest diamond in the world; 3) The Hall of Human Origins, with exhibits on evolution and primitive man; 4) Ocean Hall. The dinosaur and extinct mammal exhibits are closed until 2019 for renovations. There are many, many more interesting exhibits. You can spend hours here, but you can also just wander in for 15 minutes and see the main hall with its giant African Elephant and the Hall of Mammals. You will not be disappointed.