Smithsonian Castle Places to Visit in DC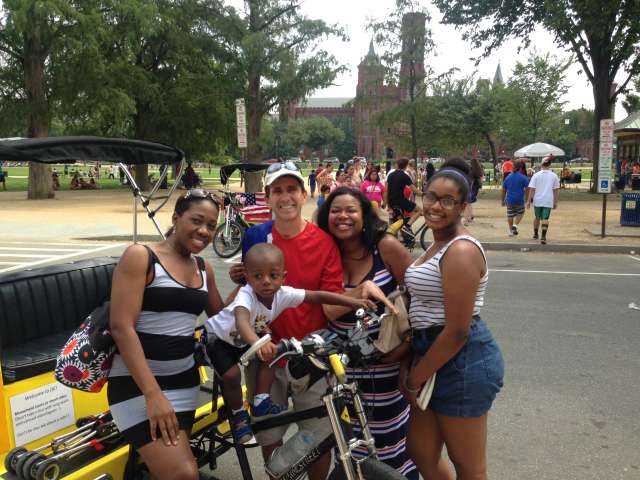 Smithsonian Castle
The building is open from 10:00 AM until 5:30 PM every day of the year except Christmas Day. There are wheelchair accessible ramps that make it easy to avoid the steps leading into the building. Construction started on the Smithsonian Castle in 1846, and it was opened to the public in 1855.
The Smithsonian Castle is part of our Featured Tours at Nonpartisan Pedicab.
The Smithsonian Castle is the oldest and most well-known of the buildings of the Smithsonian Institution. The Smithsonian Castle houses the Information Center for the Smithsonian Institution as well as a gift shop and a cafe. Additionally, the Smithsonian Institution has its administrative offices here.The building was completed and opened to the public in 1855. At the time, this was the only building on what later became the National Mall. Immediately adjacent to the Smithsonian Castle is the Enid A. Haupt garden is directly behind the Smithsonian Castle. This 4.2 acre garden is particularly lovely in the spring when the magnolia trees are in full bloom. This usually coincides with the Washington DC Cherry Blossom Festival. Also on the grounds are three Smithsonian museums. The Smithsonian African Art Museum houses African art. The Sackler Gallery contains Asian art. And the Freer Gallery has a mixture of Asian and American art, particularly an exhibition of the works of James Whistler. Along with the Dillon Ripley Center, these three museums meet three stories underground and beneath the Enid A. Haupt garden.
The Smithsonian Castle has the information center for the Smithsonian Institution. More information about this building can be found at http://www.si.edu/Museums/smithsonian-institution-building.  The Smithsonian Institution currently has 19 museums and other properties. A 20th museum, the African American History and Culture Museum, is currently under construction nearby on the National Mall. Of these properties, 16 are in the city of Washington. One is in Virginia near to Dulles Airport. And two are in New York City. Of the 16 properties in Washington DC, ten are on the National Mall. Several others are not far away in downtown Washington. And a couple of them are within the city limits but further afield.