July 4th Parade in Washington DC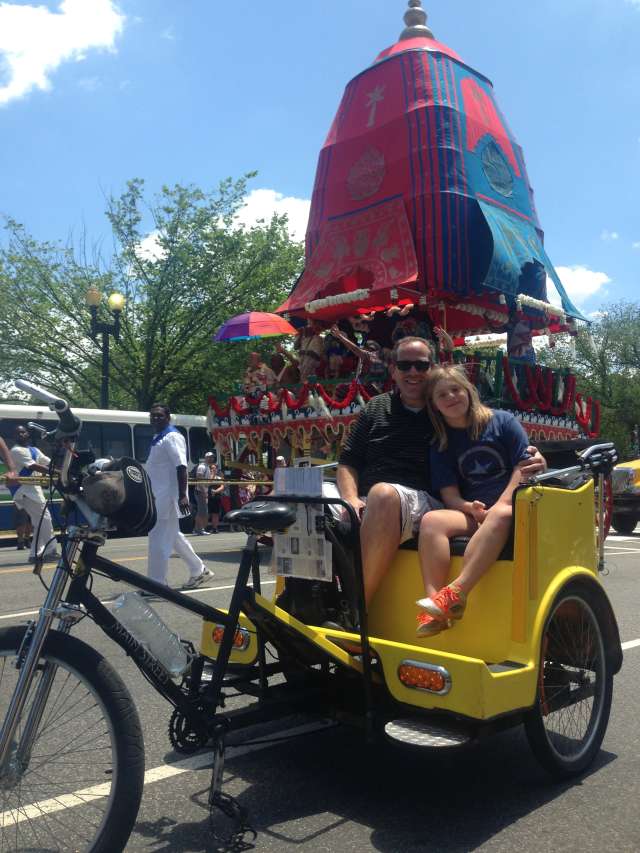 The July 4th Parade in Washington DC is fun for the whole family. The best place to view the parade go by is along Constitution Avenue between 7th and 17th Streets NW. The July 4th Parade runs from 11:45 AM until about 2:00 PM.
July 4th Parade Staging Area
Before the start of the parade, you can wander around the floats, the marching bands and the other attractions. Many people find this more fun than the parade itself.
Disability Access to the July 4th Parade
Unfortunately, nearby streets are closed to motor vehicles all day on July 4th. The nearest Metro is at the Archives/Navy Memorial Metro station on the Yellow/Green lines. Its about a block away from the beginning of the parade and the start of the staging area. Check out our page on disability access in Washington DC on July 4th.
Take a Tour of the July 4th Parade
One of the best things to do in Washington DC on July 4th is to tour the staging area as part of a downtown tour by pedicab. We can pick you up from any downtown location, and then do a tour along Pennsylvania Avenue as well as viewing the White House, the US Capitol and the Washington Monument.  We can ride among the staged floats and marching bands. It's fun for all, and it is a particularly kid friendly tour for July 4th. Space is limited, and this tour would start at 9:30 or 10:00 AM.
Kid Friendly Tours of Washington DC
Indeed, July 4th weekend is a busy time to visit the nation's capital. One of the best things to do in Washington DC is to tour the monuments by pedicab. Kids love it. Adults love it. We don't offer standard monuments and memorials tour on the day of July 4th because access is restricted. However, on any other day, we will have full access to all the memorials. Rather than dragging your kid around the 5 mile circuit around the memorials, you can accomplish this in just 2-4 hours by pedicab tour. A kid friendly pedicab tour is both fun and educational and much less tiring than walking.