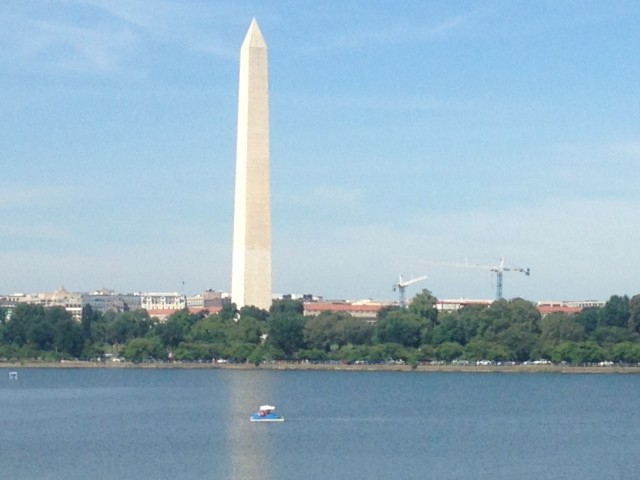 Where to find parking on the National Mall?
If you are willing to walk a little, you should be able to find parking on the National Mall.  Best of all, this parking is free.
Parking near the Smithsonian Museums
Two one-way streets go along the National Mall past many of the Smithsonian museums.  Jefferson Drive runs east, and Madison Drive runs west.  There are many free 3-hour parking spots along these two streets.  However, make sure you read the signs, which are often confusing.  There are several restricted zones where you may not park.  A ticket in most of these is about $30.  Parking in handicapped spots without a tag is frequently enforced, and the ticket is $250.
There is also some parking along the cross streets — 3rd, 4th, 7th and 14th Streets all have either free parking or cheap metered parking as well.  On 7th and 14th Streets, there are rush hour restrictions.  If you do not move your car by 4:00 PM on weekdays, expect to have your car towed and a hefty ticket.
On weekends and holidays, it is hard to find a spot in this area unless you arrive early (before 11:00 AM).
Often, nobody is monitoring the 3 hour limit.  However, after 1:00 AM, they will tow your car.  So, you cannot leave your car here overnight.
CLICK HERE TO SEE THE TOP THINGS TO DO IN DC

Searching for the best National Memorials and Smithsonian Museums on the National Mall? Check out these things to do while visiting DC.  Now you can visit all the monuments and memorials and museums around DC.
Parking near the National Memorials
There are two areas with actual parking lots near the memorials.  First, on the edge of the Tidal Basin just off of Independence Avenue there is a free parking lot.  You can often get a spot here except on busy holidays.  This spot is mostly convenient to the WWII Memorial and the Washington Monument.  Expect to do significant walking from here to any of the memorials or museums.
Behind the Jefferson Memorial, on the banks of the Potomac River are parking lots A, B, and C.  Unless it is the cherry blossom season, you can always find a parking spot here.  This is convenient to the Jefferson Memorial, but it is far from anywhere else.
Parking on Ohio Drive
Ohio Drive runs along the banks of the Potomac River.  There is a lot of streetside parking here, although tour buses illegally park here and occupy many spaces.  Ohio Drive is convenient to the FDR Memorial, the MLK Memorial and the Lincoln Memorial.
Parking on Constitution and Independence Avenues
There is free parking on both sides of Constitution Avenue from the Lincoln Memorial down to 7th Street.  However, on weekdays, these become rush hour lanes between 4:00 PM – 6:30 PM.  A fleet of motorcycle cops come out exactly at 4:00 PM on weekdays and give out $50 tickets.  If you remain parked here after 4:00 PM on a weekday, your chance of getting a ticket is 100%.  There is some parking on both sides of Independence Avenue between 3rd Street and the Washington Monument.  Your car will be quickly towed if you remain here after 4:00 PM on weekdays.
Click here to get great suggestions for parking on the National Mall.

Free tips for Smithsonian Natural History Museum Parking & More
Handicapped Parking on the National Mall
Almost every monument and every museum has a few handicapped parking spots available. The National Park Service maintains an information kiosk at each memorial where they usually have free folding wheelchairs available for use by the public.
Commercial Parking on the National Mall Area
On many of the side streets there are commercial parking garages.  One of the biggest is under the Ronald Reagan Building on 14th Street Northwest between Pennsylvania Avenue and Constitution Avenue.  This is open 24 hours.  Convenient to the American History Museum, the Natural History Museum, the Washington Monument, the White House, and the future African American History and Culture Museum.  Weekday rates in 2016 are $22 for up 10 hours and $13 all day on weekends. On 6th Street and C Street Southwest is another popular parking garage, LAZ Parking, with comparable rates.  This is very convenient to the Air and Space Museum and the Museum of the American Indian.  At 601 Pennsylvania Avenue Northwest, there is a Colonial Parking with comparable rates.  This is convenient to the National Gallery of Art and the Newseum.
Parking at the US Capitol
When Congress is not in session, and on weekends, it is usually possible to park around the Capitol Reflecting Pool.  This is not strictly legal. Very occasionally tickets are given out, but it is usually safe to park here.  Don't even think of doing this when Congress is in session.
Additional Information about parking on the National Mall
Some additional information can be gleaned from the National Park Service website.  Another good source of information can be found on the About DC website.
Touring the National Mall once You Have Parked
Your best bet is to take a tour with Nonpartisan Pedicab.  Many people say that a pedicab tour is the highlight of their visit to Washington DC.