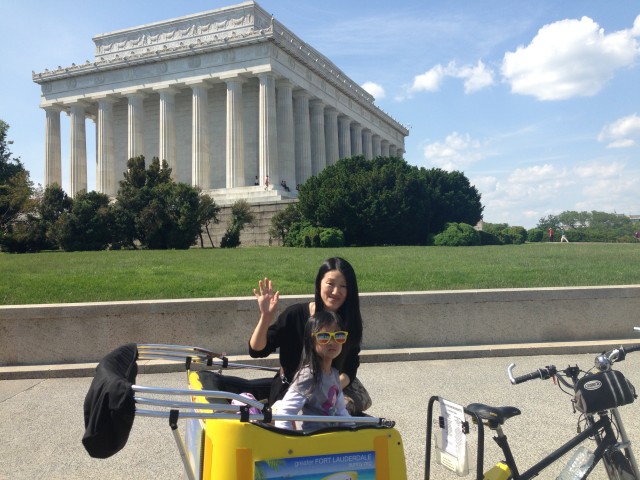 Parking at the Lincoln Memorial
There is limited on-street parking.  The most important thing is to pay attention to the signs.  US Park Police aggressively tickets on Constitution Avenue at certain times of the day.  All spots are parallel parking, so if you don't like to parallel park, you are out of luck.
Alternative to Parking at the Lincoln Memorial
Why not just leave your car in a parking garage and take a tour of the monuments with Nonpartisan Pedicab?  This is really the best way to see the memorials.  You can see all the memorials and get back to your car in about 2-3 hours and not have to worry about parking at the Lincoln Memorial and walking  between all the rest of the memorials.

Handicap Parking at the Lincoln Memorial
Daniel French Drive is only open to buses, taxis, bicycles, pedicabs, and handicapped vehicles.  There is handicapped parking on Daniel French Drive, and it is very convenient to the Lincoln Memorial.  Spots are limited, though.   Vehicles without a handicap sticker can expect a $250 ticket for parking in a handicap spot.
Parking on Constitution Avenue
There is some free on-street parking on Constitution Avenue.  The most important thing to remember here is NOT to park between 4:00 and 6:30 PM in the afternoon.  The parking lanes become traffic lanes during rush hour.  Your chance of getting a $50 ticket during those hours is 100%.  At other times, there is free 3 hour parking between 21st Street and 15 Street on Constitution Avenue
Parking on Ohio Drive
This might be a better alternative for parking at the Lincoln Memorial because you are unlikely to be ticketed here unless you stay too long.  Three hour parking right next to the Potomac River runs for close to a mile, but the closer you get to the Lincoln, the more competitive it is to get a parking spot.
Parking at the Jefferson Memorial Parking lots
There is always parking at 3 parking lots along the Potomac not particularly far away from the Jefferson Memorial.  The only downside to this option is that you have a long walk to the Lincoln Memorial.  At least you are not going to get a ticket.  This is the only location of those listed where you do not have to parallel park.
Commercial Parking Garages
Your best bet is to park at the commercial parking garage at the Ronald Reagan Building.  The address is 1300 Pennsylvania Avenue NW.  Main entrance is on 14th Street between Constitution and Pennsylvania Avenues.  This is a central location for the museums and the monuments, but you are about 1.5 miles from the Lincoln Memorial from here.  Folks, if you are driving into town, this is the most convenient option.  They never run out of space here, and prices are pretty standard for DC.  If you want to not worry about finding parking or getting a ticket, then park here. Then, just take a pedicab tour of the monuments.  You can go to all the monuments in about 2-3 hours on a private pedicab tour with Nonpartisan Pedicab.
More Info on the National Mall
You can get more information about the National Mall directly from the National Park Service website.