The National Mall is Accessible by Pedicab
Take a pedicab tour of the monuments.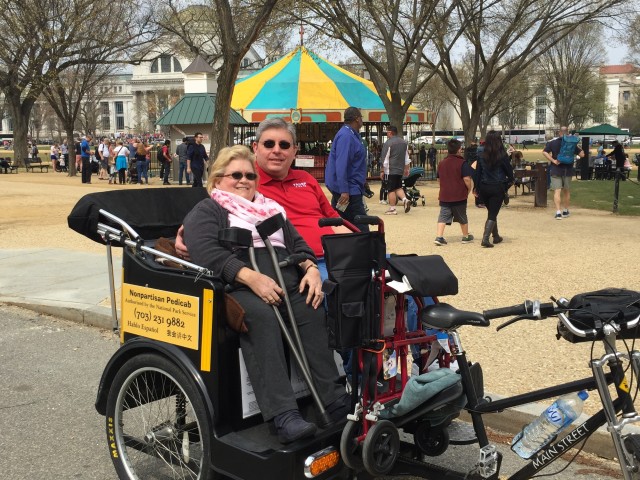 It is very easy for disabled or elderly passengers to get in and out of a pedicab.  The pedicab can get right to the curb, and there is a step platform and a handrail for the passenger to get in.
Pedicabs can get to all the monuments and wait for you right there as you go in and explore.  The double decker bus tour does NOT stop at all the monuments.  They stop further away and make you walk further to see them.
No waiting for the bus.  When you have finished seeing any of the monuments, your pedicab is waiting for you right there to take you to your next destination.  It takes only 2-3 hours to visit all the monuments by pedicab.  On the bus tour, you will take all day to see the same thing since you must walk to and find the correct bus stop and wait for the bus.
No stairs — really easy to get in and out of a pedicab.  Compare this to the access problems on a large double decker tour bus.
A pedicab can accommodate a folding wheelchair, oxygen tanks, and any other necessary equipment.  The only thing that we cannot accommodate are motorized scooters or very large wheelchairs.
A pedicab has a shady canopy to keep the hot sun off you.
Every seat is a window seat
Your pedicab chauffeur is your personal tour guide.  He talks and interacts directly with you on a one to one basis.  It is easy to hear your personal tour guide.  Feel free to ask as many questions as you like.  Compare this to the loudspeaker system on a large double decker tour bus.
Disabled access tours in DC are hard to come by.  Usually, these require you to have a motorized scooter or else to board a large bus with a platform elevator.  A tour by pedicab allows you to go at your own pace and on your own schedule.
Go at your own pace and leave on your own schedule
Free pick up from any downtown location
Get dropped off at any DC location at the conclusion of your tour
See what you want to see — all tours are customized to you
See Nonpartisan Pedicab Featured Tours of Washington DC

For more disability and accessibility information about Washington DC, click here.